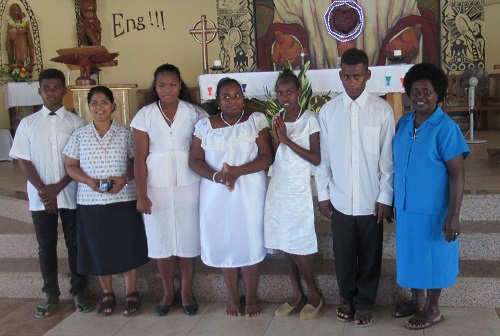 First Holy Communion
Great feast at St Peter Parish on the memorial of the Blessed Virgin Mary, the 5th of September 2020 were five children also received their First Holy Communion.
This year, due to the COVID 19 lock down the preparation for the First Holy Communion was interrupted. On the other hand the Sunday school teachers realized that the group of candidates to receive the Sacrament of Holy Communion were too young and needed more time to get ready. So with the parish priest, it had been decided to have another year of preparation, thus the sacrament was postponed for the year after. However, it happened that five children, in their teen age, notify that they didn't receive the communion yet.
Because of the age, the Sunday school team gave a full immersion to prepare them in two months and that Saturday, at the presence of all the Sunday school children, their teachers and a good group of parishioners, they received the Sacrament of intimate relation with Christ. Congratulation to all and thank you to Sr Leonie for spending time in the preparation of these children.