Life in the Diocese of Gizo in the Solomon Islands
The Solomons are an island nation with approximately 1,000 islands. They are in a long thin chain stretching about 1,000Km in a NW-SE direction.
Many of these islands are populated. There are differences in language and culture between the people of the various islands. Indeed, on many islands there can be a number of different languages on the island. This came about hundreds or even thousands of years ago when headhunting was rife and communities kept to themselves.
The Western Province of the Solomons is the "top" or Northwest section of the island chain. It stretches from the large island of New Georgia (containing the famous Marova Lagoon- described by James Mitchener as the eighth wonder of the world) in the South to the Shortland SIlands in the North, a few kilometres from Bougainville (PNG).
Gizo is the capital of the Western province and is the second largest town in the Solomons with a few tens of thousands of people. The area around Gizo was the most badly affected by the maginitude 8.1 earthquake and subsequent tsunami on April 2nd 2007.
Most people in the Solomons live a subsistence lifestyle. Copra used to be a source of money but this dried up when oil started to be used in the production of soap and similar products.
Sale of Betel nut is one of the fastest growing sources of generating money for rural farmers
Sale of Fish is one of the main sources of income to the people.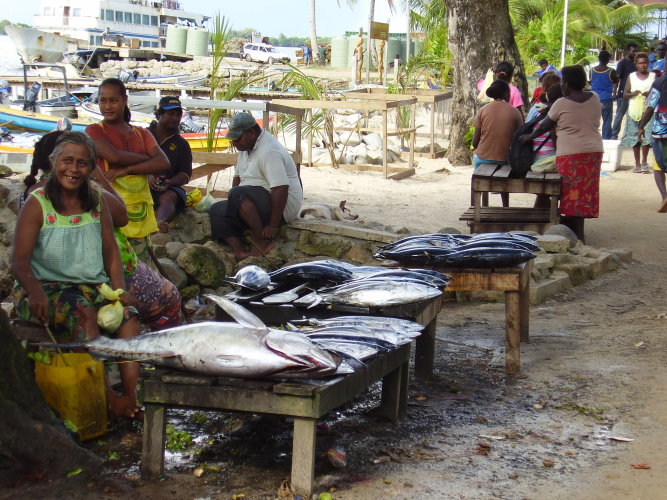 Sale of local cooked food in Gizo during the evenings is a delicious experience enjoyed by most people .
Transportation- the Bikoi is a passenger boat owned by the people of the Shortlands and is transporting the people, cargoes not only to the Shortland islands but through out the Solomons.

Solomon Express is the fastest boat in the Solomons that can travel from Honiara to Gizo in one day. Other boats take 2-3days of sailing.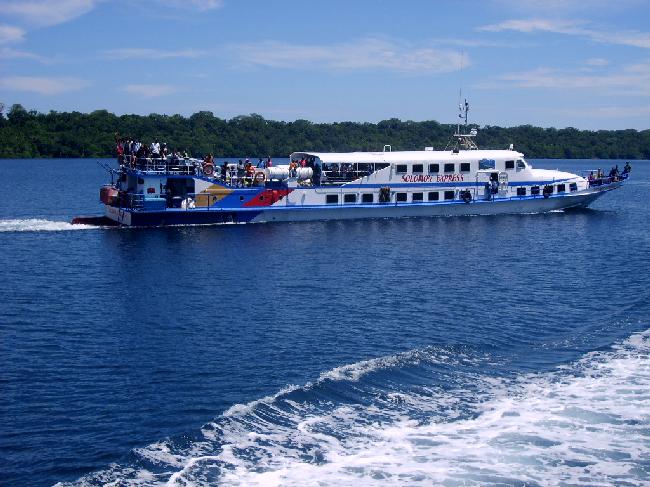 Education- Picture of Gizo Primary school and students playing soccer, Soccer is the most common sport played by all citizens.
Children of the Shortland Islands-
carefree and friendly. Shortland people are very dark skinned. They also use outrigger canoes, some propelled by wind, unlike the people from other parts of the Solomons who typically use dugouts with no outrigger
Some decades ago, people from the Kiribati Islands (pronounced "Kiribas") were moved to the Solomons and some other Pacific Islands to relieve overcrowding.Some also came by themselves when fishing canoes were blown off course and carried by currents to the Solomon Islands.
The famous Marovo Lagoon-
in the Southern part of the Diocese